Kenya Football league standings for 2006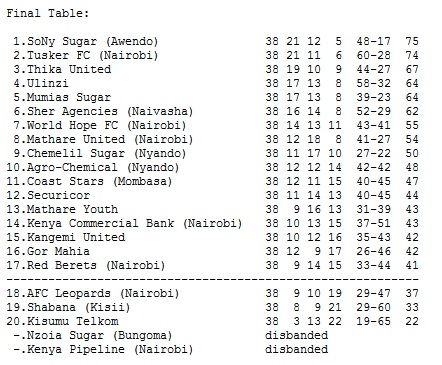 SoNy Sugar surprised everyone by winning the league in 2006. They became the first team from the lake region ever to win the league. More surprising was the fact that in 2005, SoNy Sugar had not been among the top 10 teams.
In 2005, Coach Francis Baraza took over from the legendary Peter Otieno "Bassanga" who had been coach for a number of years. It was then that SoNy's ascent to the top begun.
Both Gor Mahia and AFC Leopards were at loggerheads with the Kenya premier league and did not show up for most of their last few matches. They instead opted to participate in the parallel KFF league. Gor Mahia too were supposed to be relegated but a FIFA arbitrator decided that only the last four teams would be relegated.
In the end AFC Leopards, one of the most ullustrious teams in the history of Kenya football were relegated for the first time ever. They would spend several seasons in the lower leagues. It was a shame because they had in their ranks Victor Mugubi Wanyama who years later would become the first Kenyan ever to play in the English premier league.
Shabana which is also one of the teams with a significant fan base would be relagated and would spend a decade in the lower leagues. Kisumu Telkom (previously known as Kisumu Posta) had been one of the best teams in the Kenyan league for over twenty years and had come very close to winning the 1991 league. They too were relegated never to return to the top league. The club was disbanded in the next year.