Kenya Football league standings for 1986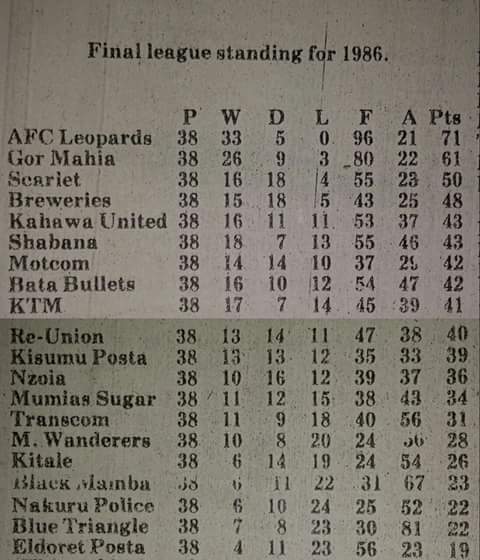 A formidable AFC Leopards side won the league unbeaten. Leopards were a well funded side thanks in large part to wealthy business man Alfred Sambu who almost single handedly financed the club. Wilberforce Mulamba was the star of the 1986 season, scoring 20 league goals. But he was not alone. AFC had a very strong line-up with players like Mickey Weche, Keffa Tasso, John, "Shoto" Lukoye, Peter Owade Zimbo, Joe Masiga, Mike Amwayi and others.
Arch rivals Gor Mahia who had won the league three times in a row, struggled, dropping points against unexpected sides. Gor Mahia also boasted a formidable squad that included players like David Ochieng, Bobby Ogolla, Austin Oduor, Abbas Magongo, George Onyango, Tirus Omondi, Sammy Onyango, Hezborn Omollo among others. They however struggled for a number of reason. The departure of influential coach Len Julians a year earlier had a devastating effect from which the club struggled to recover. They did not have the financial muscle of AFC Leopards and thus struggled to pay players. Legendary chairman Zack Mbori finally threw in the towel and did not contest the chairmanship after 1986. There was also a player bribery scandal in which a number of players were suspended for accepting bribes from AFC Chair Alfred Sambu.
Scalet and Kenya Brewries had been consistently finishing in the top 4 positions for most of the early to mid 1980s and continued in that vein. Scarlet had players like golden boy Ambrose Ayoyi, goalkeeper Washington Muhanji who had some of the sharpest reflexes ever seen in Kenya, plus free scoring Charles Odero. Breweries boasted such stars as Douglas Mutua, Paul Onyiera, Mulupi Makuto, and Aggrey Evayo among others
The most exciting aspect of the 1986 season was the entry into the league of Shabana FC. They were promoted into the league under dubious circumstances. But once in the league, they did not dissapoint. They were perhaps the third most supported team in the league, boasting a fan base from the Gusii community. Their squad boasted a number of excellent players, many of whom went on to great things. Mike Okoth became the first Kenyan to play professional football in Europe. Henry Motego and Henry Nyandoro played key roles for the national team in subsequent years. Then there were stars like Willis Owegi, Salim Mabruk, and Alfred Fwaya Oloo among others.