Kenya Football league standings for 1963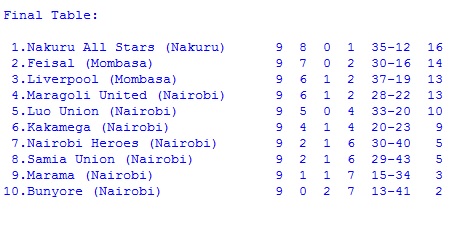 1963 League Statistics
Champions: Nakuru All Stars.
Number of points: 16 out of a possible 18, only one match lost.
Number of spectators for the entire league: 89,897 people.
Most popular team in spectator attendance: Mombasa's Liverpool. 31,240 people paid to watch them throughout the season paying a total of Sh 7,460 in the process.
Highest amount collected of a single match: Sh1,980 involving Nakuru All Stars and Liverpool.
Most patronised stadium: Mombasa Municipal Stadium. An average of 6,000 people attended the Liverpool matches.
Stats courtesy of Roy Gachuhi